Eine Recherche-Residenz
a research residency
Die zweimonatige Recherche fokussierte sich auf eine Performance im Format einer Immobilienauktion als interdisziplinäre Intervention im öffentlichen Raum. Sie soll brisante gesellschaftliche Themen zu Grund und Boden transportieren. Neue Formen einer interdisziplinären und nachhaltigen Kunstproduktion werden erforscht: Eine professionelle Verkaufsausstellung und Kunstauktion von Erd-Objekten, die als Grundstücke bzw. mobile Immobilien angeboten werden, kommen zusammen mit einer inszenierten, multimedialen Versteigerungs-Performance.
Recherchiert wurde über live und digital aufgeführte Auktionsformate, über Immobilien- und Kunstauktionen zu den vielen Facetten der globalen Bedeutung von Boden: Ernährung, Bodenleben, Kolonialisierung durch Deutschland, europäische Geopolitik, Kompost, Mikroben, Landverteilung im Osten Deutschlands nach 1989, Öko-Nazis und völkische SiedlerInnen, gemeinschaftliches Eigentum Allmende, Entwicklung von Bodenpreisen und ökologische Nachhaltigkeit.
The two-month research focused on a performance in the format of a real estate auction as an interdisciplinary intervention in public space. It is supposed to convey explosive social issues to the ground. New forms of interdisciplinary and sustainable art production are being explored: A professional sales exhibition and art auction of earth objects that are offered as land or mobile real estate come together with a staged, multimedia auction performance.
Research was carried out on live and digital auction formats, real estate and art auctions on the many facets of the global significance of soil: nutrition, soil life, colonization by Germany, European geopolitics, compost, microbes, land distribution in eastern Germany after 1989, eco-Nazis and ethnic settlers, common property commons, development of land prices and ecological sustainability.
Das Ergebnis ist ein Konzept zur Erstellung von Auktionsobjekten und interdisziplinären Performances, die auf Schloss Bröllin entwickelt werden können. ResidenzkünstlerInnen werden beauftragt, eine Brölliner Erdoberfläche vor Ort oder online über einen Drohnenflug zu wählen. Diese Oberfläche wird vom Decrustate-Kollektiv zu einem Erd-Objekt präpariert. Zusammen mit einem eigenen interdisziplinären Beitrag der KünstlerInnen kämen diese Werke in die Auktion. Call for Art hier.
The result is a concept for the creation of auction objects and interdisciplinary performances that can be developed at Schloss Bröllin. Residency artists are commissioned to choose a Brölliner earth surface on site or online via a drone flight. This surface is prepared into an earth object by the Decrustate collective. Together with their own interdisciplinary contribution by the artists, these works would come up for auction.
Call for Art here
Zum besseren Verständnis sind folgend Kooperationsbeispiele aus der Vergangenheit, Konzepte und Information zu finden:
For a better understanding, examples of cooperation from the past, concepts and information can be found here:
1.
Beispiel einer künstlerischen Kooperation, mit dem Anliegen, den Call for Art zur Brölliner Bodenversteigerung zu inspirieren.
English: Example of an artistic cooperation 2019 to inspire the call for art for the Bröllin Realty Auction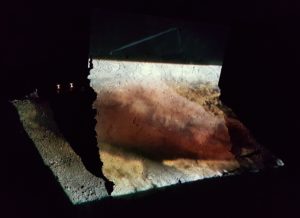 Ein Tanz auf einem Stück Erde des Brölliner KunstAckers zum Thema der engen Verbindung von Tänzer zu Tanzboden wurde  gefilmt. Das Stück betanzte Erde zu einem Decrustat vor Ort im Original verfestigt, abgeschält und erhöht. Es diente dann als Projektionsfläche des selben Tanzes, an der selben Stelle des KunstAckers.
– eine Kooperation mit Tänzer Atsushi Takenouchi und Video Künstlerin Erato Tzavara
Mit Dank an alle Teilnehmenden!
Art Research: A dance on a piece of earth of the Bröllin Art'sAcre to the topic of close connection of man to soil was filmed. The piece of earth danced upon was then hardened at site, peeled and lifted.  It then served as projection surface for the dance itself – at the exact same spot on the Art'sAcre.
A cooperation with dancer Atsushi Takenouchi and video artist Erato Tzavara
Thanks to all participants!
2.
So könnte eine Präsentation eines zu versteigernden Grundstücks im Versteigerungskatalog aussehen:
This is how a presentation of one of the pieces of land for auction could be presented in a auction cataloque:
————————————————————————————————————————————————————————————————————————————————–
PLOT 1 – BRÖLLINER BODENVERSTEIGERUNG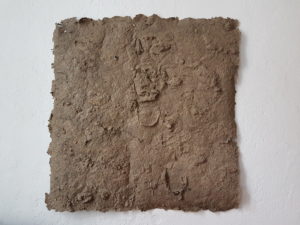 Plot 1
Taxe: 700 – 900 €

Titel: Ein Spaziergang in Zeiten von Corona – you drive me up the wall

Datierung: 2019
Technik: Decrustation
Darstellungsmaß: 70 x 70 cm
click to enlarge
Bezeichnung: signiert, datiert und betitelt
Zustand: leicht verschmutzt
Aus der Auflage von 30 Decrustationen, Bröllin 2021
Beschreibung/Dokumentation:
2. Die Decrustation – the Decrustation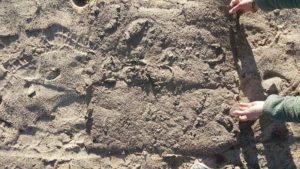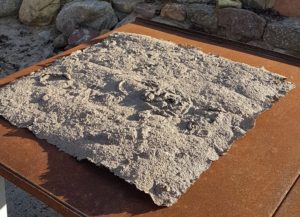 3. Die Dekontextualisierung – the De-contextualisation
4. Rekontextualisierung über Multimedia-Performance – Theater, Tanz, Video, Lyrik, Lied, Musik…      
Recontextualisation via multi-media performance – theatre, dance, video, lyrics, song, music…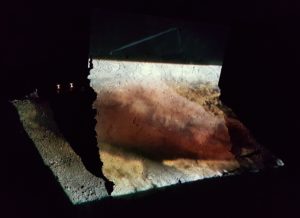 Literatur:
Erläuterung zum Katalog:
Bietschritte:
Folgerechtabgabe:
Differenzbesteuerung, MwSt. enthalten, gem. § 25a UStG nicht ausweisbar, nicht erstattbar 29,00 % Aufgeld auf den Zuschlagspreis
Verwandte Werke in der Auktion
Objektkunst   Performance   Decrustation  Bröllin  Bodenversteigerung  Ketterer  minimal art   Flausen   Boden   interdisziplinäre Kunst   Fond Daku   Vorpommern   2021   Zeitgenössische Kunst   Deutschland
Voraussichtliche Versandkosten für dieses Lot:
Deutschland: 38,00 Euro inkl. 6,07 Euro MwSt
EU: 75,00 Euro inkl. 11,97 Euro MwSt
Weltweit: 130,00 Euro inkl. 20,76 Euro MwSt
zzgl. Versandversicherung
Sie wollen ein Objekt von Ketterer verkaufen?
Möchten Sie ein Objekt von Ketterer kaufen und zukünftig Angebote erhalten?
Objektbewertung      Experten      Newsletter und Suchkartei    Auktionsergebnisse zu Decrustate
1. Plot 1 Bodenversteigerung_1
---
Links zu weiteren Recherche-Materialien:
3. Bodenversteigerung – Lexikon
4. immobilien Lexikon – Auktion Kunst