Coming: Decrustates at Discovery Art Fair
Kunstmesse Kölner Liste
in April 2018
You find our special presentation in the entrance area to the fair and In booth A01
Please join us from 20 -22 April 2018
Opening Thursday April 19th, 18 to 22h
Friday April 20, 11 -21h
www.discoveryartfair.com Berlin-Cologne-Frankfurt
https://www.facebook.com/discoveryartfair
Instagram @discoveryartfair Twitter @lookforart
XPOST Köln
Gladbacher Wall 5 | 50670 Köln
Fr – Sa 11 – 21 h | So 11 – 18 h
What are DECRUSTATES?
They are objects of thin crusts of original earth surfaces detached from their place
of origin and taken to exhibitions around the globe.
We find ground formations/ information on surfaces of dunes, in riverbeds, at sea shores, on mountains, but also in cities and at industrial sites.
During the DECRUSTATION process we select, bind and remove such earth surfaces to exhibit them: elevate them to eye level changing perspectives and contexts.
DECRUSTATION in the Namib Desert:
19°16'0.32″S   3°19'34.33″E
Landscape – Seascape

Click on pictures to open the gallery!
Largest Decrustate:
Documentation of Decrustate Acre at the Brandenburger Tor, Berlin, 4.9.2017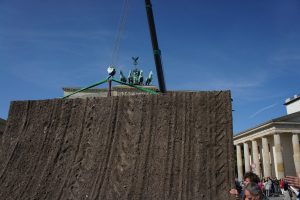 Documentation to Decrustate Acre at Brandenburger Tor, Berlin here
New information on DECRUSTATES and Architecture.
More about DECRUSTATES
Link to Videos