Wir öffnen unsere Produzentengalerie in Berlin an zwei Wochenenden:
15.2. –  17.2.2019, 14:00 bis 20:00 und 01.3. – 03.3.2019, 14:00 bis 20:00
Die Künstlerin ist anwesend.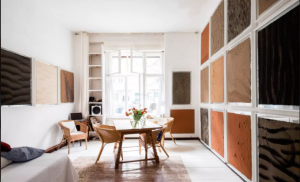 We will open our Producers Gallery in Berlin for two week-ends on
15.2. –  17.2.2019, 14:00 until 20:00
01.3. – 03.3.2019, 14:00 until 20:00
What are DECRUSTATES?
They are objects of thin crusts of original earth surfaces detached from their place
of origin and taken to exhibitions around the globe.
We find ground formations/ information on surfaces of dunes, in riverbeds, at sea shores, on mountains, but also in cities and at industrial sites.
During the DECRUSTATION process we select, bind and remove such earth surfaces to exhibit them: elevate them to eye level changing perspectives and contexts.
DECRUSTATION in the Namib Desert:
19°16'0.32″S   3°19'34.33″E
Landscape – Seascape

Click on pictures to open the gallery!
Largest Decrustate:
Documentation of Decrustate Acre at the Brandenburger Tor, Berlin
click here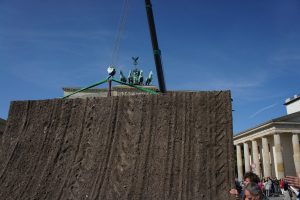 New information on DECRUSTATES and Architecture
More about DECRUSTATES
Link to Videos