to the digital site of my work…
SEPTEMBER/OCTOBER: New exhibition at Re-Art Halle, Ihlienworth
The United Nations proclaimed the year 2015 International Year of the Soil
high-lighting the soils' elemental, thus fundamental importance for human development. The exhibition Boden!Bildung brought together various international artists.
The exhibition is open Saturday/Sunday
Finissage 17.10.2015
DECRUSTATE 2015, Special Edition to co-finance project ORIGIN
Introducing DECRUSTATES 2015: this Special Edition for the United Nation International Year of Soils is offered to raise seed-capital for a continuous global production of DECRUSTATES for public exhibitions to prepare the ground for an inter-disciplinary,  inter-cultural and participatory festival called ORIGIN.
In the center of the ORIGIN exhibition/platform stand dozens of 5 x 5 meters DECRUSTATES being exhibited in public open spaces around the globe.  Add your city!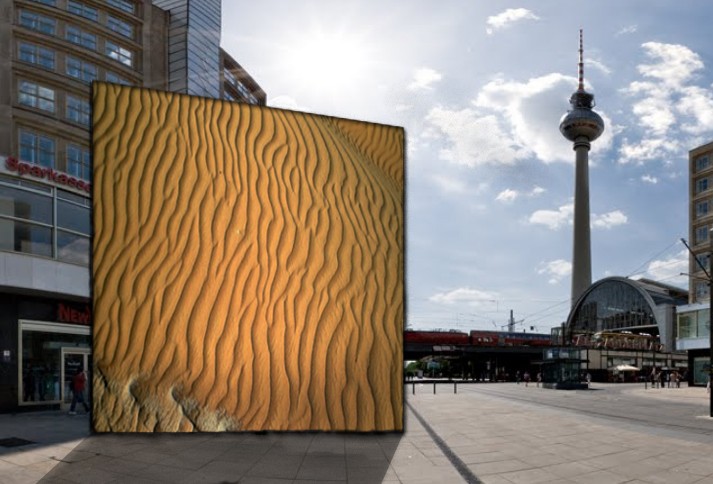 ORIGIN in Berlin (photo montage)
What are DECRUSTATES?
They are objects of thin crusts of original earth surfaces detached from their place
of origin and taken to exhibitions around the globe.
I find ground formations/ information on surfaces of dunes, in riverbeds, at sea shores, on mountains, but also in cities and at industrial sites.
During the DECRUSTATION process I select, bind and remove such earth surfaces to exhibit them: elevate them to eye level changing perspectives and contexts.
DECRUSTATION in the Namib Desert:
19°16'0.32″S   3°19'34.33″E
Landscape – Seascape

Click on pictures to open the gallery!
New information on DECRUSTATES and Architecture.
More about DECRUSTATES
Link to Videos